The "Kaiser-Lothar-Preis"
The "Kaiser-Lothar-Preis" has been awarded since 1958 and – according to the statutes of the EVBK – is intended to contribute to deepening the European idea. The prize is donated by the city of Prüm. It is endowed. A commitment to the European idea and contacts in neighboring countries are still criteria for the selection of the prize winners* today. But the artistic development in recent years plays an important role in the selection process, too.
The candidates* should have participated in the EVBK's annual exhibitions over the past three years, and active participation in the EVBK is also desired.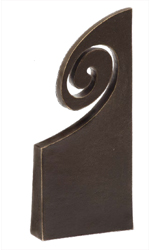 The prize winner* is chosen by a jury consisting of the chairman/chairwoman, the members of the board and two artists*, who are newly appointed every two years. The proposal of the EVBK jury must be approved by the Prüm City Council.
The "Kaiser-Lothar-Preis" is awarded annually at the opening ceremony of the annual exhibition in Prüm. It consists of a certificate and a medal created according to a design by Pierre Doome. Both are presented to the winner*.
List of award winners
Unfortunately, links are only in German and/or French.
1990
Franz Kött (†)
Zülpich (D)
1989
Joseph Mégly († 2012)
Metz (F)
1988
Adolf Christmann
Eupen (B)
1987
Franz Eichenauer († 1995)
Bad Kreuznach (D)
1986
Henri-Alain Lesprit
Lubine (F)
1985
Paul Roettgers
Vianden (L)
1984
Christel Schneider
Daun (D)
1983
Emile Olivier († 2007)
Liége (B)
1982
Johann-Baptist Lenz († 2007)
Oberkail (D)
1981
Denise Manquillet-Schneider († 2011)
Hautes-Riviéres (F)
198o
Franz Josef Herold († 1986)
Aachen (D)
1979
nicht verliehen
1978
Prof. Edmond Goergen († 2000)
Luxembourg (L)
1977
Prof. Kurt Schwippert († 1983)
Kelberg (D)
1976
Jean Albert Dupont
Beaufays (B)
1975
Carlfritz Nicolay († 1997)
Cochem (D)
1974
nicht verliehen
1973
Rudi Scheuermann († 2016)
Koblenz (D)
1972
Peter Lacroix († 2010)
Aachen (D)
1971
Josef Sanke († 1975)
Aachen (D)
1970
Josef Geboers († 1982)
Lommel (B)
1969
Konrad Schaefer († 1991)
Bad Münstereifel (D)
1968
nicht verliehen
1967
François Ambrosini († 1967)
Esch (L)
1966
Kurt-Wolf von Borries († 1985)
Köln (D)
1965
Alphonse Kraemer († 1994)
Metz (F)
1964
Jean Thomas Debattice († 1979)
Liége (B)
1963
Franz Kinnen († 1979)
Luxembourg (L)
1962
Reinhard Hess († 1998)
Trier (D)
1961
Michael Reuter (†)
Metz (F)
1960
Roger Greisch († 2000)
Ouren-Reuland (B)
1959
Jupp Kuckartz († 1985)
Aachen (D)
1958
Prof. Hanns Altmeier († 1979)
Koblenz (D)